How to enter the competition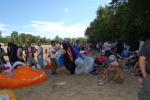 For participation in the competition you must register and pay the entry fee.
1. Registration
Please go to the registration page and fill in all requiered fields. After successful registration you will receive a confirmation email.
2. Entry Fee
120,- EUR if paid until 1st August 2010
150,- EUR if paid after1st August 2010
Entry fee should be paid by bank transfer:
Account name: Parapendio le streghe
IBAN: IT70H03047755200000201083
BIC- SWIFT:CA0TIT31XXX
please on the bank tranfer write this phrase : QUOTA ASSOCIATIVA A FONDO PERDUTO. It is a must for tax reasons.

The payment must be passed to the account before 1st August to qualify for the fee without a late payment surcharge.
For international bank transfers you have to pay all transaction fees (your payment order must be marked OUR).
Entry fee includes:

results processing
take-off and landing zones fees

transportation to take-off
retrieve

GPS coordinates, map of the area
t-shirt
lunch packets

discount in camp
---