World XContest 2008 [home]

Dear pilot,
we would like to welcome you at the homepage of WXC 2008, PG and HG online XC system.

News:
29. 06. 2008 - Flights from DHV-XC and LEONARDO servers in Daily score!
As the first product of cooperation with DHV and Leonardo/Paraglidingforum you can start to browse all the flights from these providers directly in Daily score 
Flights are mixed together with "home" XContest flights, differentiated with another background and icon of provider under the link, which goes directly to the server of origin to the new browser window. Perfect overview of flying around the world each day!
External flights have NO effect for Ranking categories.

24. 06. 2008 - XContest in full interactive 3D - special feature!
From now you can enjoy flight view in 3D mode directly in flight detail at XContest! In the flight detail simply click on "G Earth 3D" button and allow installing the Google Earth Plug-in to your browser for the first time. Then you will be able to see all flights in 3D mode.
The Google Earth Plug-in currently supports the following web browsers on Microsoft Windows XP and Vista operating systems:
IE 6.0+, 7.0+

Firefox 3.0x, 2.x or 2.0x
Netscape 7.1+
Mozilla 1.4+
Flock 1.0+
Support for other operating systems is planned in future releases of Google Earth Plug-in.
03. 05. 2008 - Bienvenido Mexico!
Mexico is first non-european country with official national ranking at XContest. We are looking forward for great flights from country of strong thermals and tequila!
25. 03. 2008 - New partial contests - "ALPS region" and "Visegrad 4"

We launched special filter at World XContest. Now you can filter all flight lists, daily score and scoring of each category for the following regions: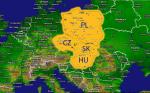 ALPS region and Visegrad 4 (Czech, Slovakia, Hungary, Poland).
For the flight valid to the region the take-off must be inside the given area.

01. 03. 2008 - LATVIA with national contest
Latvia is another country with official national XC ranking at XContest system. Welcome! :-)

29. 02. 2008 - NEW SERVER
We go live with new server today in the night. Therefore we suppose XContest server will be inaccesible today from 11 p.m. for few hours. Thanks for understanding.
23. 12. 2007 - PF 2008
We wish you Merry Christmas, happy New Year 2008 and a lot of beautiful flights and safe landings in coming season!

16. 11. 2007 - PARAGLIDING WORLD RECORD BROKEN!
On 14. 11. 2007 three Brazilian pilots Frank Brown, Rafael Saladini and Marcelo Prieto flew together new WR - incredible
461 km
! You can check flights of
Rafael
and
Marcelo
in XContest system and continue in dreaming... CONGRATULATIONS!
Rafael Saladini
is currently
Nr. 1 in World XContest
with 3 flights over 400 km and huge lead ahead of others.

14. 11. 2007 - We would like to announce close partnership between XContest and Cross Country magazine. First issue of this cooperation is here:
Enter your flights in the XContest and you could win a free subscription to Cross Country magazine, or a DVD of your choice.
As part of our partnership Cross Country is offering free prizes to those that participate in the league. Just before each issue of Cross Country is printed, the names of three pilots who've entered scores in the last two months will be randomly selected by our computer. Prizes for the winners of the different categories will be announced later in the year, but in the meantime you don't need to be a champion to be a winner, so get those flights logged.


01. 10. 2007 - The XContest system for the new season 2008 is ready. Now you can sign in, confirm your registration to the WXC 2008 and claim flights flown after 1.10.2007. Have a nice flights and a lot of fun in the new season!

For sure you can claim flights to the 2007 season if they were flown until 01.10.2007 - XContest automatically detect correct contest. Don´t forget - deadline for last flights for the 2007 season is 14.10.2007!

Basic structure:

Left menu: contains references to pages with informations about flights, pilots and ranking in particular classes. Furthermore you can find here rules and F.A.Q.
Right menu: for "users", contains references to pages which can user (pilot) use for registration, flight claim,pilot profile management, etc.
We believe, that intuitive work with the new system of XContest and simple flight claiming will bring you only pleasure. We hope you enjoy the unique level of flight detail with interactive maps and another special features.
Main goal of XContest project:
The main idea of XContest system is to provide pilots with most well-arranged and simple online cross country contest as it´s possible.
Together with this we want to bring all important informations about flights and pilots. Our aim during the flight informations browsing is to give all users chance to view all important data from tracklog, which are available. And without any additional software.
Team XContest.org
https://www.xcontest.org

Useful links:

Hotline:
email: support@xcontest.org
---